Vote for Miracles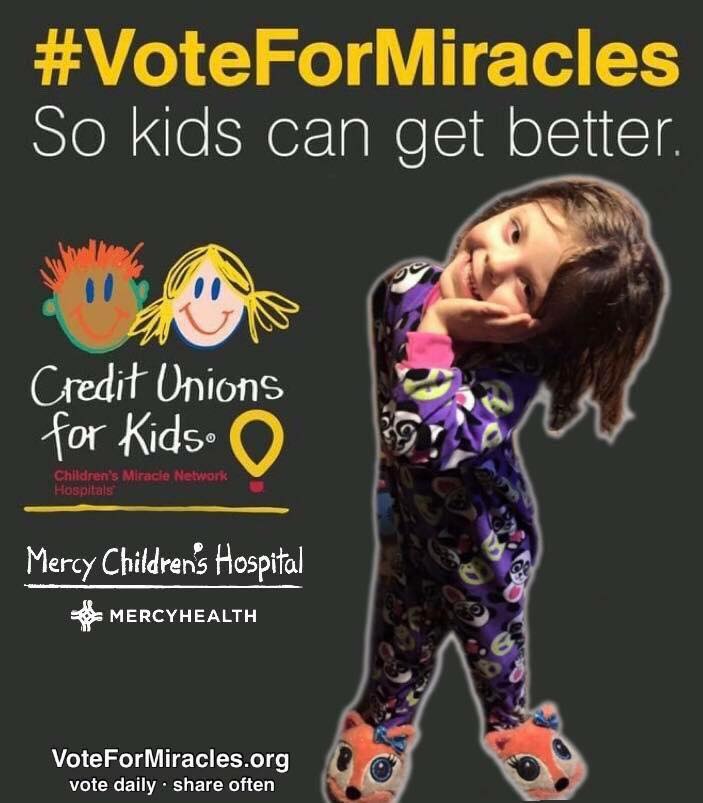 Votes Could Result in $50,000 to Help Local Kids

A nationwide "Vote for Miracles" campaign is November 27 - December 18, 2018. Individuals can vote once a day over the course of the three-week campaign. The hospital with the most votes will receive $50,000 from Credit Unions for Kids courtesy of CO-OP® Financial Services The hospital with the most votes will win $50,000. Second through fifth place will receive $20,000, $15,000, $10,000 and $ 5,000, respectively.
Share your support with your friends and family so they can #VoteForMiracles, too! If Mercy Children's is voted the top hospital, the money would be used to continue their life-saving and improving care and services at the hospital, including expanding autism services. #voteformiracles #CU4Kids #ftk1
Please take five seconds to vote for Mercy Children's Hospital in Toledo to help them win $50,000!!
You can vote once a day per email address until December 18th.
Every 60 seconds, more than 60 children enter @CMNHospitals. Here's your chance to help! Visit VoteForMiracles.org today and every day through December 18 to #VoteForMiracles! (USE ALL YOUR EMAILS)